Introducing Sinderella: 51m hybrid project offered for sale by Troyer Yachts
Andrew Troyer is proud to offer Sinderella, a new diesel / electric superyacht concept created by Cantu Design and DFD Inc. With its fusion of European elegance, American innovation, and zero emission propulsion, this superyacht is poised to make waves in the industry.
Key Features:
All American Design Team
499 GT
Zero Emission Propulsion (two to four hours)
High Cruise Speeds
Shallow Draft (Bahamas Cruising)
Helipad
Master Suite (on deck)
Nemo Underwater Room
Reflective Exterior
Garage with Gull-Wing Doors
The alluring and seductive aesthetic of this design is accentuated by the sleek and fashionable plumb bow, reminiscent of a stylish stiletto heel, which gracefully adorns the waterline. Adding to its allure, the main deck features a hidden gem – a sunken seating area discreetly nestled behind the bow. This captivating space remains concealed until deployable awnings gracefully lift part of the deck, unveiling a cozy and intimate socializing area. Just aft of this enchanting spot, additional seating and sun pads await, providing ample opportunities for relaxation and basking in the sun. Cleverly hidden below these luxurious amenities lies a tender garage, accessible through stylized gull-wing door openings, ensuring the safe launch and retrieval of a 6-meter and 5-meter tender.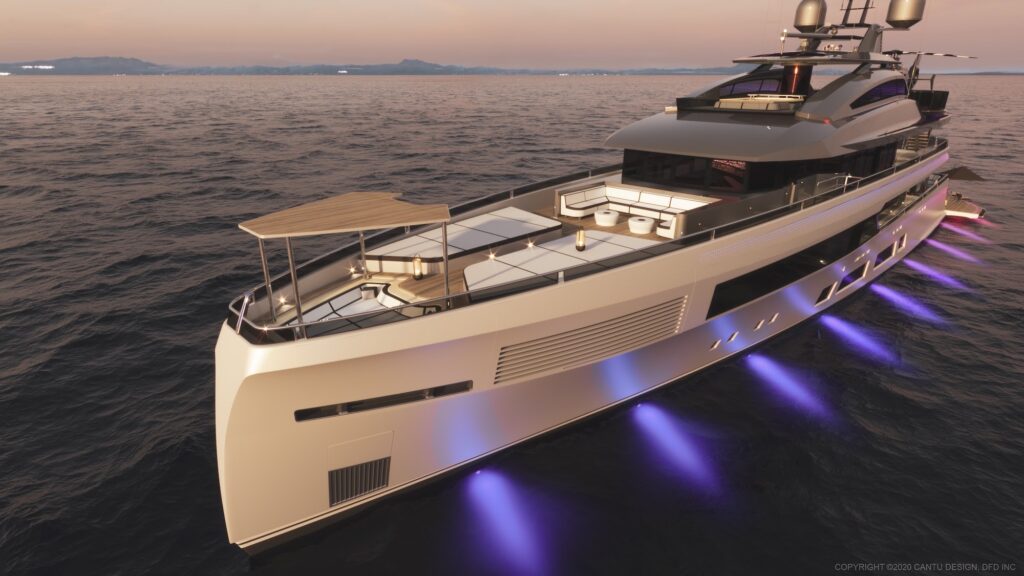 Maximizing Volume without exceeding 500GT:
One of the noteworthy achievements of Sinderella is its ability to offer significant interior volume while staying below the 500GT threshold. This accomplishment is the result of employing tonnage minimization methods that have been successfully utilized in both the yachting and commercial shipping industries. By efficiently utilizing space and optimizing the yacht's layout, the designers have maximized the interior volume without compromising on luxury or comfort.
The sundeck of this remarkable superyacht boasts several impressive features. Towards the aft, there is a touch-and-go helipad, allowing for convenient helicopter arrivals and departures. Moving forward, there is a bar and a spacious 10-foot by 4-foot Jacuzzi, providing a perfect spot to relax while enjoying breathtaking panoramic views. Additionally, the sundeck superstructure showcases a unique glass overhang, serving as an awning that expands as you move towards the back of the yacht. This overhang is designed at an angle, allowing sunlight to filter into the sky lounge area, which encompasses a dining and lounging space, as well as an al fresco dining area towards the rear. For those seeking shade, the glass overhang can be made opaque with a simple switch, offering both style and practicality in its design.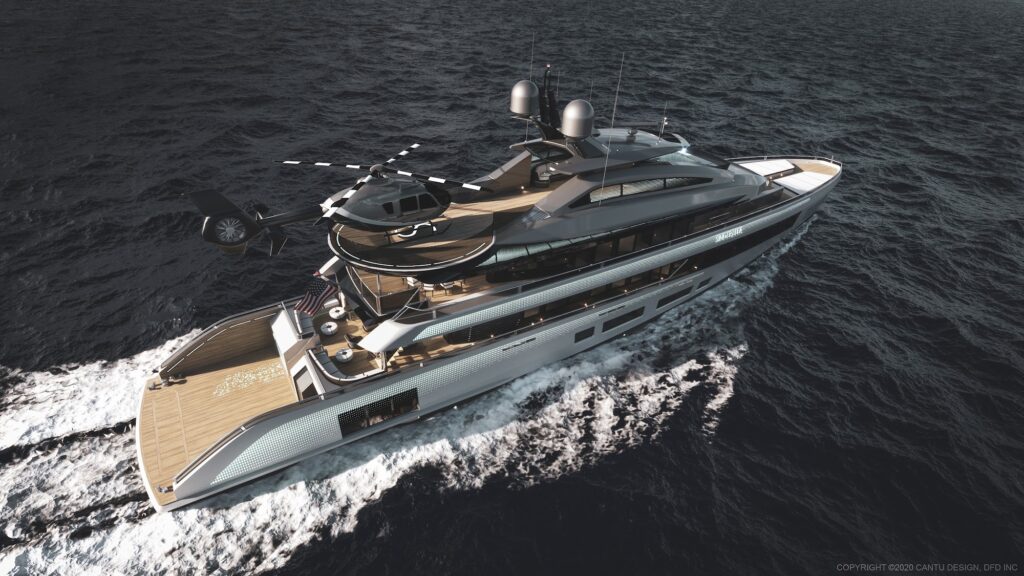 "It is one of the defining features of the concept," explains Cantu. "This is one of a few design and engineering solutions that allowed us to circumnavigate the issue of achieving a strong and full looking exterior without adding to the tonnage. At the same time, it provides a very practical purpose and is a simple yet effective solution."
Reflective Exterior:
The project's essence lies in incorporating vibrant colors into the exterior through skillfully integrated lighting technology in both the structure and windows, resulting in a captivating nighttime display. Collaborating with companies like SEEN, who offer products such as sandwiched glass with a reflective core, together with a patterned finish on the boat's structure, allows us to create a visually appealing design throughout the yacht.
Taking this concept a step further, we can enhance it with interactive features by incorporating lighting products. This enables us to create dynamic patterns and colors that actively transform the hull and windows, providing an engaging and captivating experience.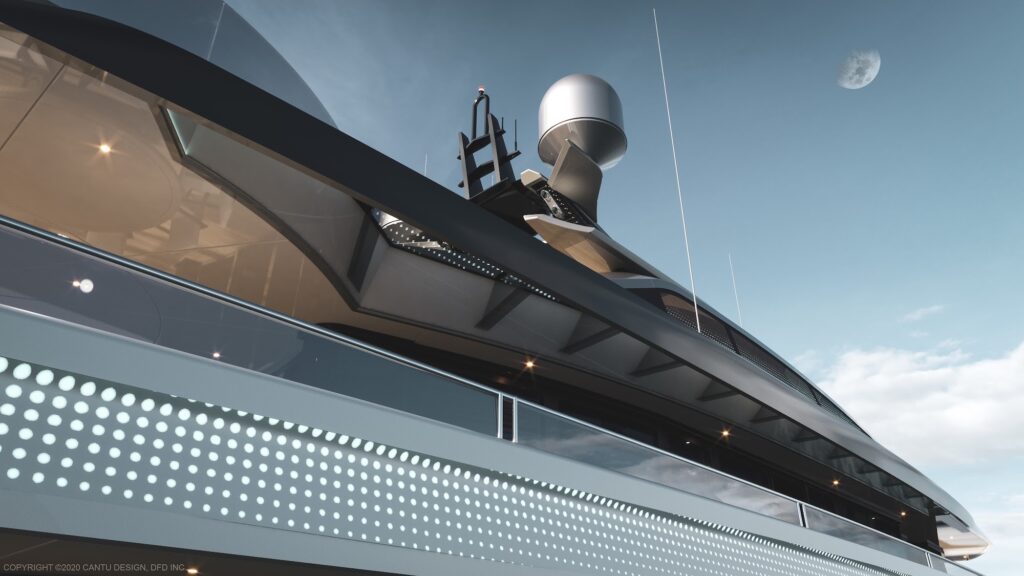 The Beach Club and Nemo Underwater Room:
Storage of all resort equipment and water toys is forward of with direct access to the beach club. This allows for easy accessibility and convenience when guests want to enjoy the various water activities available.
Additionally, Cantu has incorporated advanced technology into the Nemo room, ensuring a comfortable and immersive experience for guests. The large windows are equipped with state-of-the-art soundproofing, allowing guests to enjoy the stunning underwater views without any disturbance from the surrounding environment. Overall, the Nemo room is a unique and innovative addition to the beach club area of the yacht. It offers guests a one-of-a-kind experience, allowing them to connect with the marine environment in a comfortable and luxurious setting. Whether for relaxation, entertainment, or simply enjoying the beauty of the underwater world, the Nemo room is the perfect retreat on board.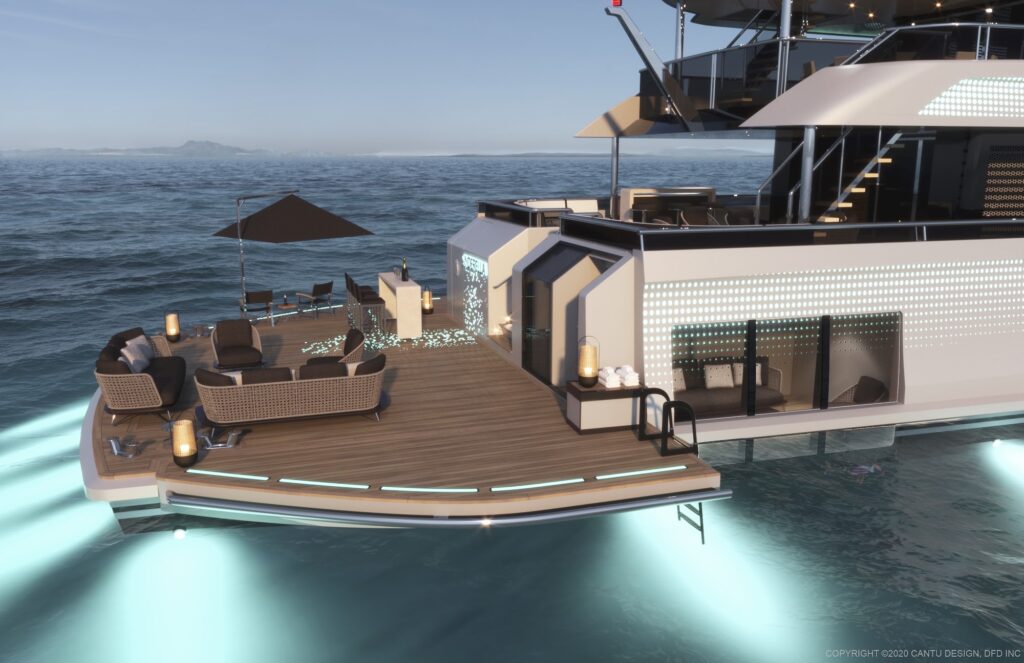 Revolutionizing Marine Propulsion: DFD Inc's Electric-Powered Azimuth Drive Solution
Engineering:
In the ever-evolving world of marine engineering, DFD Inc. has emerged as a trailblazer by reimagining the traditional engine room setup. With a keen eye on the broader market, the company has identified a significant gap in the 40m – 60m vessel segment – the absence of electric-powered azimuth drive solutions. While smaller boats rely on systems from Volvo and Cummins, larger vessels are equipped with ABB, Kongsberg, Rolls-Royce, or Siemens technologies. Recognizing this void, DFD Inc. has developed three power plant packages for their latest creation, Sinderella, catering to diverse client needs.
Diesel-Electric Package for Enhanced Manoeuvrability:
The first two power plant options for Sinderella involve a diesel-electric package, harnessing the capabilities of four 500 to 750 kW diesel gensets. These gensets power electric azimuths, offering unparalleled maneuverability. This propulsion setup not only ensures superior control but also enables transatlantic voyages, thanks to power plant management and fuel efficiency optimization protocols inspired by modern cruise ships.
Environmental Considerations and Zero-Emission Propulsion:
Recognizing the growing need for sustainable practices in the maritime industry, DFD Inc. has integrated a diesel-electric and auxiliary battery bank system into Sinderella. This innovative approach allows the vessel to operate with zero-emission propulsion from two to four hours, relying solely on electric power. This capability opens up access to restricted waters, such as the ecologically fragile Raja Ampat in Indonesia, where conventionally powered vessels are banned. As the world becomes increasingly conscious of protecting delicate marine ecosystems, this environmentally-friendly feature is expected to gain traction and become a crucial requirement for vessel operators.
The Future of Marine Propulsion:
DFD Inc.'s pioneering electric-powered azimuth drive solution sets a new benchmark in marine propulsion technology. By addressing the market gap in the 40m – 60m segment, the company has shown a commitment to innovation and sustainability. The integration of diesel-electric systems, coupled with auxiliary battery banks, not only ensures superior performance but also aligns with the industry's efforts to conserve delicate oceanic zones. As demand for eco-friendly vessels continues to rise, DFD Inc.'s forward-thinking approach positions Sinderella as a frontrunner in the quest for greener marine transportation.
"Current battery technology only allows for about two to four hours of operation of this size vessel at a minimum speed of four to six knots," says David Menna, partner and director of naval architecture at the Fort Lauderdale-based DFD Inc. "This is true for all boats at this range due to the size and weight of the batteries needed. So Sinderella is limited in terms of its battery-power capability, but a driveline which moves the propulsion motors via electric instead of mechanical power is already setup to accept any future battery technology input devices. Yachts can live for several decades, so being plug-and-play ready for future power technologies is responsible design."
Overall, Sinderella is a remarkable example of how design and engineering can work together to create a luxurious and sustainable superyacht. By combining tonnage minimization techniques with a focus on future energy solutions, the designers have created a vessel that not only offers exceptional interior space but also sets a new standard for environmental consciousness in the yachting industry.
For more information on superyacht Sinderella contact Andrew of Troyer Yachts.