Making Time for True Luxury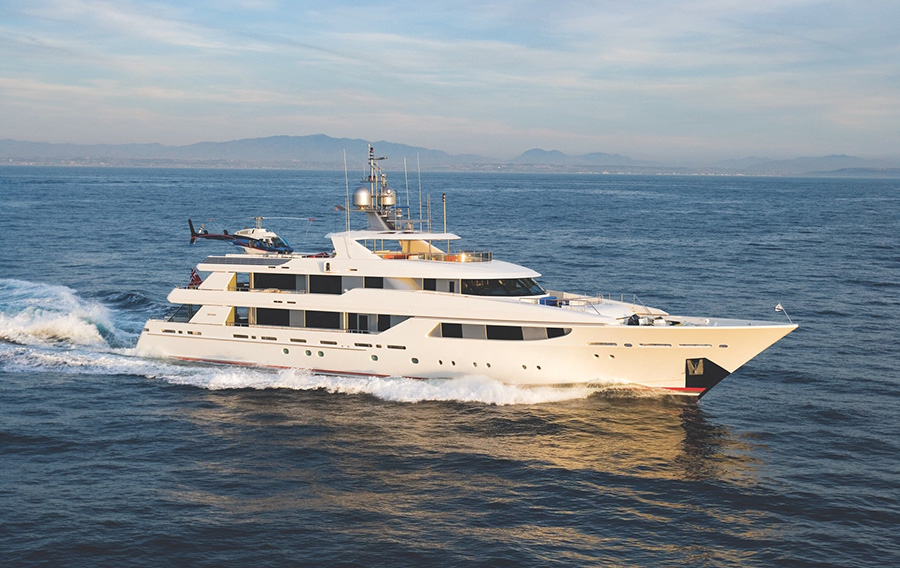 Seas the Day
Making Time for True Luxury
Photography courtesy of Westport Yachts
When Andrew Troyer started selling boats in the "world's luckiest fishing village" of Destin, Florida, he admits he didn't at first understand that when some brands preached the high quality of their products, it was not always a guarantee. Through the years, his appreciation for the finer things in life has also come to mean an appreciation for working with brands that craft products of lasting value while maintaining the integrity of what is promised to their consumers—and that makes all the difference in the world. In an age where technology means everything is at our fingertips, Troyer knows firsthand the importance of realizing that the best products and services can take time.
VIE caught up with Troyer to discuss Westport Yachts' commitment to promoting and creating products that are definitely worth the time that's put into them.
VIE: How did you get started in the yacht brokerage business?
Andrew Troyer: I started at a small company in Destin and over a decade worked my way into the megayacht market. The boats I first started selling years ago were equivalent to the tenders aboard the yachts we build at Westport. Over the years, I realized that luxury didn't always equal quality, and I began seeking out the very best in the industry. I'm proud to have landed at a company that doesn't cut corners, offers world-class service, and builds with pride right here in the United States.
VIE: What makes a yacht a great investment over other types of watercraft?
AT: In truth, not all yachts are created equal, nor do they have the same residual value or ease of resale. That being said, a yacht is an investment of many kinds. For some, it's an investment in family—a floating destination that draws friends and loved ones together. For others with wanderlust, it's a machine used to create lifelong memories and experiences. To me, a yacht is time well spent.
Yachts are the destination. Most of our owners are very busy people, and the yacht is a place for them to get away.
VIE: Do many of your clients choose yachts as a second home of sorts?
AT: Yachts are the destination. Most of our owners are very busy people, and the yacht is a place for them to get away. I'm always pleased to hear that an owner is using the yacht eight hundred to a thousand hours a year. In some cases, they are spending as many as two hundred days per year aboard.
VIE: What sets Westport Yachts apart from other brands?
AT: Our shipyards are based in Washington State. We employ over 500 people, we build yachts from 112 to 164 feet (34 to 50 meters), we've been building since 1964, and we are the largest producer of superyachts in the USA. In addition to new construction, we have an extremely active brokerage working to sell and purchase used yachts from 60 feet and up. Our recently launched charter department works with clients to create one-week or longer extended vacations aboard a yacht anywhere on the globe.
Typically, we work with the one-half of the 1 percent—those ultra-high-net-worth individuals who seek honest, ethical representation and value doing the right thing even when no one is looking.
VIE: What types of new technology have you seen being added to luxury yachts?
AT: Gyro stabilization is hardly new but is a newer technology that has had a major impact on the enjoyment of yachts. Gyros work to help eliminate roll at anchor, creating a more comfortable experience for the owner and guests. We currently use Seakeepers in our 112 and VEEM Gyros in our larger yachts.
Personally, I'm most impressed by our newly launched Westport integrated bridge system. It's produced in Mandeville, Louisiana, by sister company Marine Technologies. This all-glass integrated bridge system is truly cutting edge. Benefits include one-man bridge operation, application redundancy, touch screen operation, online ordering of charts and weather forecasts, remote access for diagnostics and monitoring, and a helm chair monitor that allows the captain to control the entire yacht without leaving the chair.
We are currently developing new products, with a couple of new launches that we expect to announce in 2019.
VIE: What are some of the most interesting or exciting features you've seen on a yacht?
AT: I'm a huge fan of the "beach club" concept. The beach club aft allows the owner/guests to hang out with easy access to water toys like Jet Skis, SEABOBs, and tenders. They can listen to music, watch TV, enjoy a fine rum or drink, and watch the day go by at sea level.
VIE: Tell us a little about your other business—producing high-quality rum.
AT: ARÔME was an opportunity for me to create a brand that simply didn't compromise. From the rum itself down to the labels, we cut no corners. The ARÔME 28 has been aged for a minimum of twenty-eight years and was created in the old-world Cuban style of rum distillation.
VIE: Readers can learn more about ARÔME rum in VIE's upcoming culinary issue or at RumAROME.com.
— V —
---
To learn more or to inquire about purchasing your own destination on the sea, contact Andrew Troyer.
Article Written & Sourced:
Vie Magazine (link to Vie Magazine)
By: The Idea Boutique
Photos: Courtesy of Westport Yachts 
Date: Feb 2019