Viking Yachts 90 Sportfishing Skybridge (SB) – Miami International Boat Show by Andrew Troyer
First, let me say that I have a great deal of respect for Viking. They are a family operated, US company, founded in 1964 by Bob & Bill Healey. Currently, Pat Healey, is the president and CEO. Additionally, you will find the 3rd generation of Healey's involved in the day to day operations. They produce 90% of each boat in-house. Viking Yachts is located on Bass River in New Gretna, NJ with a Florida based service center in Riviera beach. Viking is currently building sport fishing yachts from 44' to 90' and center consoles under their Valhalla brand from 33' to 55'. Viking also dipped into the motor yacht market in past years building both a 75' and 93'. The VIking Yachts mantra? "Building a better boat every day."
The Viking Yachts 90 has replaced the extremely popular Viking 92, and as of the 2023 Miami International Boat Show, Viking has 15 hulls spoken for. Although the boat is slightly smaller than its predecessor, this was an opportunity for the shipyard to increase the speed, and build on the strengths of the, Viking 92, built with an all new design. The new flagship features a refined driveline and prop pockets. Utilizing Computational Fluid Dynamics, Viking analyzed pressure distribution, studied trim angle, trim tab effectiveness, and modified strakes and chines to increase running efficiency. Most will look upon the Viking 90 as a "fishing yacht" but for those that want the best of both worlds the cockpit can be utilized as a lounge area or entertainment space.
The Viking 90 offers five guest staterooms, each with a private head and shower, aft crew crew quarters with immediate access to the engine room, a full beam owner's suite with king walk around bed, and his-and-hers private bathrooms.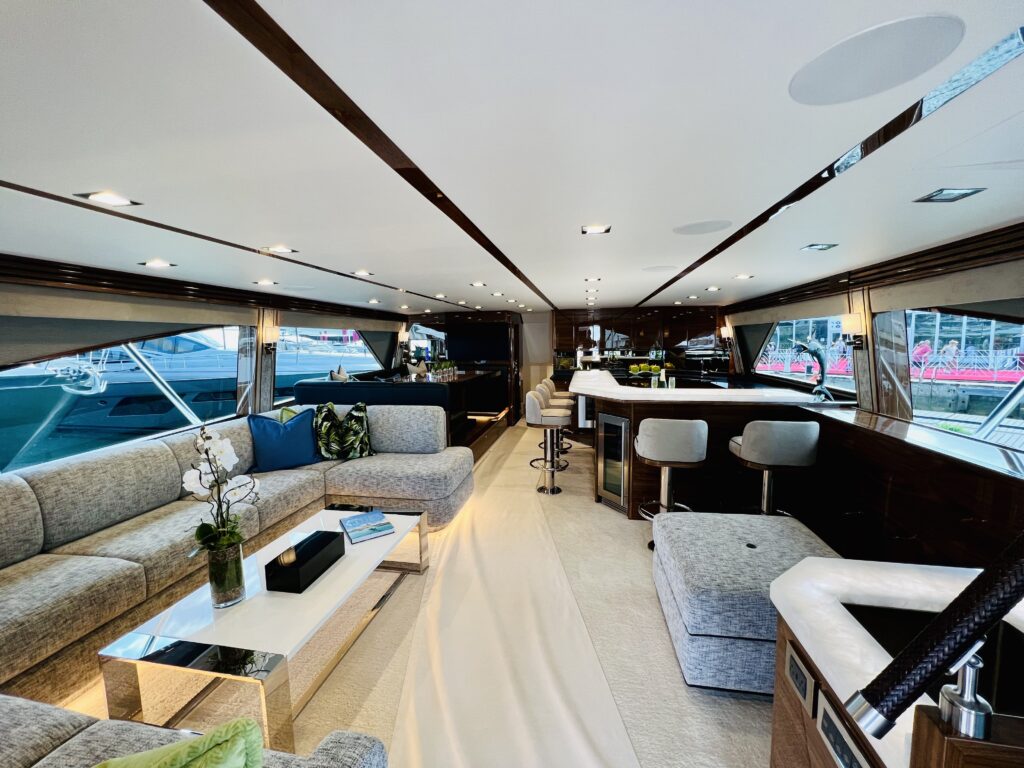 Salon/Dining: Stepping into the full beam salon I am immediately met with yacht like luxury and it's easy to forget that this is a "Sportfisherman". A large u-shaped sofa, coffee table, aft bar with backlit onyx, and a 65" TV greet you immediately when stepping into the salon. Forward to port is a u-shaped dinette and to starboard is a large bar area, including 5 bar stools and backlit countertop. It's simply luxurious, and candidly, easy to forget that you're on a sportfishman.
Skybridge/Helm: The helm and companion chairs (with teak ladder backs) are positioned on a raised teak platform, maximizing visibility. The console is positioned on the starboard side, with a raised electronics pod housing three MFDs. The skybridge helm pod is flanked by port and starboard radio boxes. Forward of the console, guests can relax in an L-shaped lounge (with storage underneath); a forward fiberglass module holds a sink to port and an under-mount drink box to starboard.
Cockpit: I find the cockpit to offer a balance of space for fishing and comfort for either enjoying the action or simply taking in a sunset. The cockpit measures 224 square feet, has a 203 gallon fishbox/live well, twin 103 gallon insulated in-deck refrigerated fish boxes, and access to the Seakeeper 35. The cockpit sole is built with reinforcement for a fighting chair, rocket launchers, or table. A large lounge / mezzanine looks upon the cockpit.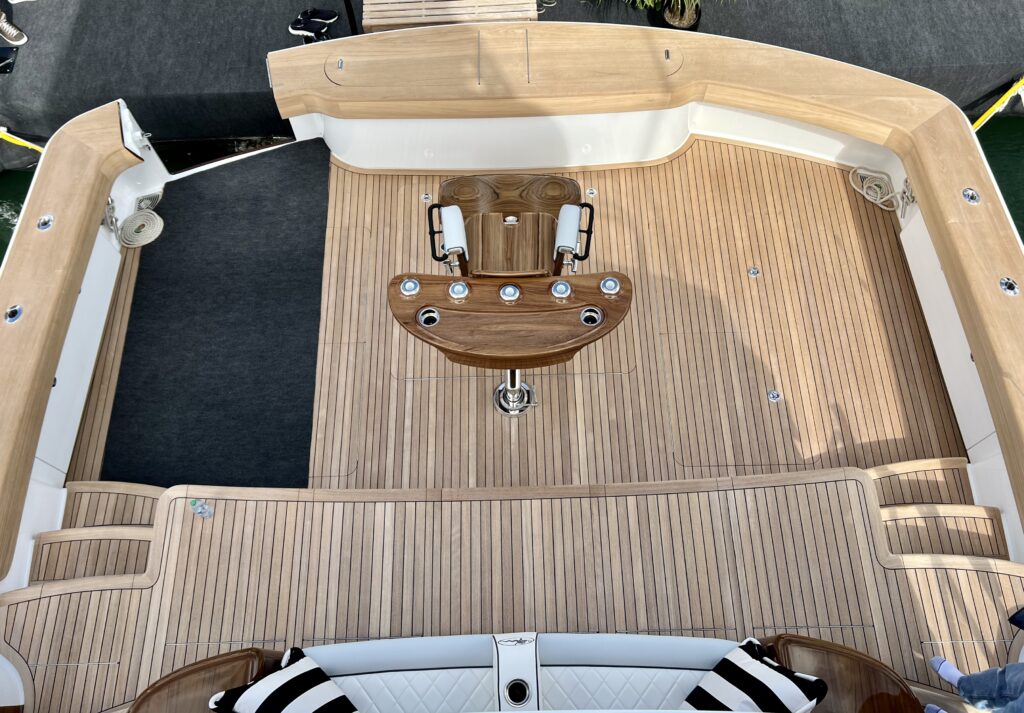 Engine Room: The engine room is surprisingly spacious for a 90' yacht. This is a clear sign of proper engineering and design. The headroom is near seven foot with a set of Kohler generators, Omni sonar, and spacious enough to easily get around the outsides of the twin MTU 16V2000's. The crew quarter over under bunks, including a head, are aft of the engine room. Overall, the engine room space is something I expect to see on larger yachts like the Westport 112.
Available Engine Options:
CAT / C32A 1925 1925 MHP (Base)
CAT / C32B 2400 2433 MHP (Option)
MTU Series 2000/V16 M96L 2635 MHP (Option)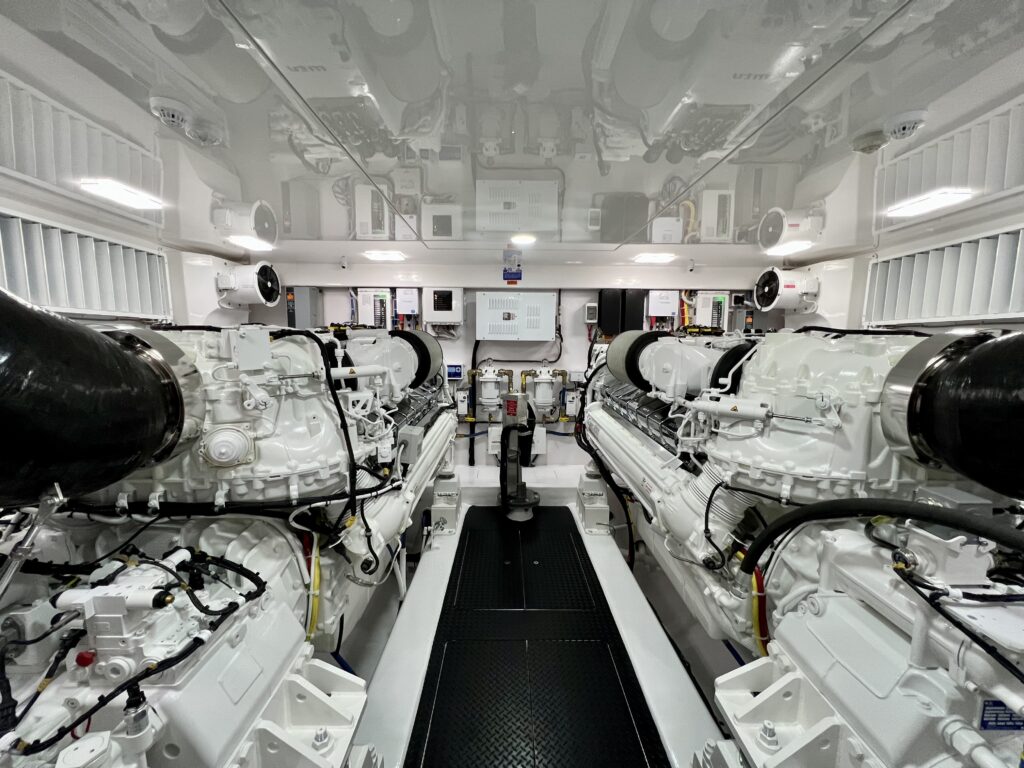 To finalize, the Viking 90 is fast, she offers yacht like luxury, accommodates a large group, is a capable fishing machine, and is made in the USA.
About Andrew Troyer: Andrew Troyer has been full time in the yachting industry since 2006 and is currently the President of Troyer Yachts. Troyer is known for putting the client's interests first and advising both buyers and sellers on how to minimize risk. Adept in guiding the new build or brokerage process, as both a buyer and seller representative, and even handling crew placement for select clientele, Andrew is a multi-faceted advisor.
Andrew Troyer – President & Broker at Troyer Yachts
954-732-0339 or Andrew.Troyer@TroyerYachts.com
*Specifications provided by Viking Yachts
General Viking Yachts Questions:
Who is Viking Yachts and where are they made?
Viking Yachts was founded by brothers Bob & Bill Healy in 1964. They bought a small struggling New Jersey builder and began building wooden sport fish boats. Family owned till this day, Pat Healey is the current CEO of Viking Yachts and the company has expanded to include Palm Beach Towers, Viking Yacht Service Center, Atlantic Marine Electronics, and Valhalla Boat Sales. Viking has produced over 4,700 yachts and they build 90% of the components in-house. The current product line ranges in size from 38 to 90 feet.
How many Viking Yachts 92 Sporfisherman's were built?
Viking Yachts built 21 of the Viking 92's before designing and launching the new Viking 90.
Why did Viking Yachts stop building the Viking Yacht 92?
An international mandate from the International Maritime Organization (IMO-3) required a Selective Catalytic Reduction (SCR) system to be installed into new build Viking 92's as well as other yachts reducing NOx emissions by 80%. The SCR systems in the VIking 92 would increase operating costs, reduce performance, hinder service accessibility, require additional ventilation, add tankage for the diesel exhaust fluid (DEF), and ultimately a solution was not currently available for a yacht of this size.
How big is the cockpit / mezzanine area on the Viking 90?
The cockpit measures 224 square feet on the Viking Yachts 90 Sportfisherman. It has a 203-gallon fishbox / live well and a pair of refrigerated (optional) in-deck fish boxes.
Does the Viking 90 offer stabilization?
The Viking Yachts 90 is stabilized by a Seakeeper 35. The Seakeeper gyros are a proven and effective way to reduce yacht role at rest.
How many Viking 90's have been sold?
Viking reported that 15 Viking Yachts 90's have already been spoken for. This is an incredible and we wish them continued success.
Specification Questions:
What are the dimensions of the Viking Yachts 90 Sportfisherman Cockpit?
The Cockpit of the VIking Yachts 90 Sportfisherman is 224 square feet. (20.8 square meters)
And, features a 203 gallon transom fishbox as well as a pair of 103 gallon insulated fish boxes.
What is the Length of the Viking Yachts 90 Sportfisherman?
Length Overall (LOA): 90 ft (27.41 M)
What is the Beam of the Viking Yachts 90 Sportfisherman?
The Beam of the Viking 90 is 23 ft 2 in (7.05 M)
What is the Draft of the VIking Yachts 90 Sportfisherman?
The Draft of the Viking 90 is 5 ft 11 in (1.80 M)
What is the Weight of the Viking Yachts 90 Sportfisherman?
The Gross Weight of the Viking Yachts 90 equipped with Enclosed Bridge with Sky Bridge is 203,659 lbs (92,378 kg)
The Gross Weight of the Viking Yachts 90 with Open Bridge / No Tower 193,490 lbs (87,766 kg)
How much Fuel and Water does the Viking Yachts 90 Sportfisherman carry?
The Viking Yachts 90 Sportfisherman has a Fuel Capacity of 3,801 gallons or 14,388 liters.
She carries 480 gallons or 1,817 liters of Water.
*Specification Source: VIking Yachts